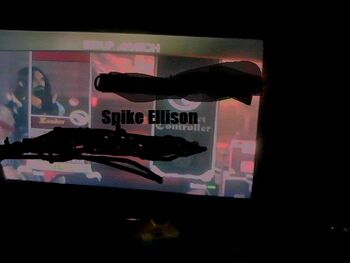 Spike Ellison is the main charater in Spike Ellison's Underg
Spike Ellison

Some attributes

First
Name: Spike Ellison
Second
Birthday: May 12, 2000
Third
Relatives: Jeremy Ellison (brother), Mista Ellison (best friend)

Other attributes

Fourth
Favorite Food: Cheeseburgers, Hot Dogs, Macaroni Salad, French Fries, Fish Sandwiches, Sausage Sandwiches, Sour Cream and Onion Chips, Cheetos, Barbecue Chips, Pop Tarts, Pizza, Taco Salad with Nacho Chips, Chicken Nuggets.
Fifth
Enemies: Albert Hartmann
round. He loves skateboarding, hangs out with his friends, and loves to be a warrior for the Barbarian battle. He is known to do 6:30 stuff, and also obsessed with the girls. Spike is further related with his best friend,
Mista Ellison
. He and Mista will do their talkings.
In the first episode, his best friend Mista wakes Spike up and tries to get dressed to skateboard.
In the FlightthePirates258 universe, Spike, Jeremy and Mista are brothers, as revealed in Hometown Hijinks. They originally lived on Earth as normal, but the devastating events of the end of Season 4 finale of Spike Ellison's Underground left them in shambles. After a short time in Hell at the hands of the Devil's Hell Star, Spike and Mista fled to Earth 2, where they sought permanent refuge. His lifelong wish is to "become a Boomer and explode everywhere!"